IAI-PIA Group at Karlsruhe Institute of Technology (KIT) supports Maker vs. Virus Initiative
All over Germany, 3D printers are running at full speed to produce urgently needed protective equipment. The rule that applies to all of us – keep your distance and avoid contact – cannot be implemented equally in all professional groups. For example, doctors and nursing staff, or even supermarket cashiers, are in contact with different people every day. In some institutions, protective equipment is scarce. The Germany-wide movement Maker vs. Virus starts exactly at this point and connects people and organisations with a need for protective equipment with so-called makers who can produce it.
The IAI-PIA group at Karlsruhe Institute of Technology (KIT) is involved in the Maker vs. Virus movement to meet the demand for protective equipment in the surrounding regions. The PIA team, headed by Dr. Steffen G. Scholz, has reopened the FDM 3D printing lab with a total number of 15 printers many weeks ago to actively support the production of initially urgently needed protective visors, so-called faceshields, in the fight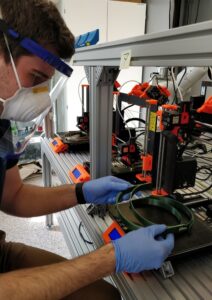 against Covid-19. So far, a total number of more than 1400 headbands (status 10.06.2020) for the visors could be printed from the two different materials PLA and PETG. In the meantime, the team has also taken part in the production of more than 1000 ear savers, which are used as supporting aids for wearing face and protective masks. The group has also made considerable progress in the design and production of hygienic door handles as a product facilitating hands-free opening of doors. The printed parts were delivered mainly to the FabLab in Bruchsal and the hub in Karlsruhe as well as to the hub in Ulm, where then the further processing and the delivery to the places of need took place.
The 3D printing project was initiated in close cooperation with the company NewTec GmbH in Ulm and its managing director Harald Molle. This cooperation has enabled an optimal, fast and target-oriented alignment of the printing activities in Karlsruhe and Ulm since the beginning of the project. The activities have already been announced in a press release in the Ulm-News about the Ulm hub and NewTec GmbH as well as in a press release of KIT.
The IAI-PIA team would like to thank all actors involved in the team as well as all supporting forces outside the team who made the implementation of these support measures possible.
 By Janin Fauth
Karlsruhe Institute of Technology (KIT), Institute for Automation and Applied Informatics (IAI)