Nanotechnologies and EU metrology landscape
EURAMET is the European Association of National Metrology Institutes (NMIs), created under the EUROMET name in 1987 by EU NMIs, the European Free Trade Association (EFTA) and European Commission (EC). EURAMET acts as the Regional Metrology Organisation (RMO) of Europe, and as such coordinates the cooperation of NMIs in Europe in fields such as research in metrology, traceability of measurements to the SI units, international recognition of national measurement standards and related Calibration and Measurement Capabilities (CMC). Through Knowledge Transfer and cooperation among its members EURAMET facilitates the development of the national metrology infrastructures and ensures an effective use of the resources available in metrology (expertise, infrastructure/facilities).
EURAMET's mission is to develop and disseminate an integrated, cost-effective and internationally competitive measurement infrastructure for Europe, taking into account the needs of industry, governments and society.
Objectives, organization of the EMPIR program and nanometrology-oriented projects
To implement these objectives, EURAMET is elaborating and executing for more than 10 years European metrology programs as part of EU's Framework Programs for Research and Technological Development, with the aims to optimize the NMI's research coordination, to strengthen their collaboration and to encourage collaboration between European NMIs and partners from industry or academia.
EMRP (European Metrology Research Program) was launched in 2009 under Article 169 (EU FP7) as the first EU programme to address metrology issues. EMRP gave the possibility for NMIs to collaborate on research projects dealing with metrology issues on specific topic: industry, energy, environment, health, new technologies, SI units (International System of units) and Scientific excellence in all areas of metrology.
EMPIR (European Metrology Program for Innovation and Research) took over from EMRP in 2014. The emphasis was placed on innovation actions to target industry needs and accelerate uptake of results. Funding has been expanded to research laboratories and industry partners which are not EURAMET's members, under the same financing rules as for Horizon 2020. New funding opportunities have also been put in place, as with capacity building projects which aim to bridge the gap between EU member states with newly acquired measurement systems and member states with more developed measurement capacities. The EMPIR committee is the decision-making body for all questions concerning the execution of joint research programs. Each member participating in the EMPIR program has a representative and the EMPIR committee's President is one of the two vice-presidents of EURAMET.
Nanotechnologies, as a field highly concerned by metrology issues, have therefore an important place in the landscape. 19 projects were indeed funded to date by EMPIR on 6 years (the last EMPIR call for proposals is not taken into account here).
Among these 19 Joint Research Projects (JRPs), 5 address metrology issues linked to different standardization needs expressed by Technical Committees from CEN (European Committee for Standardization) or ISO (International Organization for Standardization):
Those projects are in relation with 5 different standardization Technical Committees, about different topics: health, electronics, materials and instrumentation. Around 25 industrial partners and 10 NMI or Designated Institutes (DIs) are involved in: BAM (DE), CEM (ES), INRIM (IT), LGC (UK), LNE (FR), METAS (CH), NPL (UK), PTB (DE), SMD (BE), VSL (NL) and VTT (FI).
Four other projects have been funded to support SI development through R&D in fundamental and applied sciences of measurement. The topics are related to dimensional and electrical metrological measurements:
On these three projects, 6 industrial partners and 13 NMIs are involved: CMI (CZ), DFM (DK), INRIM (IT), LNE (FR), METAS (CH), NPL (UK), PTB (DE), RISE (SE), SMD (BE), TÜBITAK (TR), UME (TR), VSL (NL) and VTT (FI).
Seven projects aim (or aimed) at developing or improving measurement methods in support of nanofabrication and performances/quality control:
The EMPIR program also makes it possible to increase the impact of European projects through dissemination and results exploitation activities. In this context, the ISOCONCur (« An ISO Technical Report on Nanoparticle Concentration ») and ESCoShell (« An ISO Technical Report on the use of Electron Spectroscopy for Measurement of Core-Shell Nanoparticle Shell Thicknesses »)  projects followed on from the EMPIR Innanopart project (described above) and the BioSurf project funded by the previous program EMRP, respectively. The latter has made it possible to develop methods for reliably and consistently measuring the performance of nanoparticles-enhanced biochemical interfaces used in in vitro diagnostic devices. The project Adlab-XMet (« Advancing laboratory based X-ray metrology techniques ») started in 2018. It follows the EMRP project TReND, which developed non-destructive X-ray analysis procedures and calibration samples to accurately characterize electrical and chemical properties of nanostructured devices.
The table below summarizes the different EU nano-related projects:
(click table to enlarge)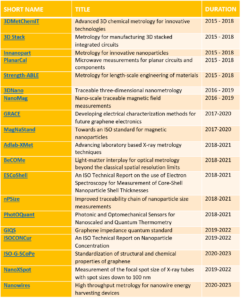 EMN and EPM
The European Partnership on Metrology (EPM) will take over from EMPIR within the framework of the Horizon Europe program. EPM will be more open than its predecessors on external cooperation (academic, university, international) and the emphasis will be on knowledge sharing and broad partnership, open to business, so as to promote innovation and competitiveness of European industry.
The experience of previous programs (EMRP and EMPIR) has shown the need to develop mechanisms to create a more strategic and long-term cooperation between a wider community of metrology experts, researchers and end users (industry, government agencies…). Thus, European Metrology Networks (EMNs) were initiated from the end of the EMPIR program and will be further developed within EPM with the aim to analyze and respond to European and global metrology needs in a coordinated and sustainable way. These EMNs also make it possible to define common metrology strategies including aspects such as research, infrastructure, knowledge transfer and services and the corresponding infrastructures will continue engagement and cooperation for as long as the need remains.
Until now, two EMN potentially interesting for the nanotechnologies/nanomaterials community were launched:
– AdvManuNet « Support for a European Metrology Network on advanced manufacturing » ;
– Quantum « EMN for Quantum Technologies ».
AdvManuNet will increase the input of the metrology community in the field of advanced manufacturing (in particular at the nanoscale with thin films characterization for example), while Quantum deals with Quantum Technologies in view to insure the needed levels of standardization and reliability to support progress in research and development on those promising and strategical technologies for EU.
This framework of European Metrology Networks can be a good opportunity to support the development of sustainable nanomanufacturing and current initiatives in the field (e.g. EUROnanoLAB, GO NANOFAB, ETPN…) by bringing together the various expertise and resources/infrastructures in EU metrology essential to the cross-disciplinary nature of the nanotechnologies field.
Authors: Diane Gumuchian & Georges Favre, LNE Nanotech Institute